Press Releases
2023. July. 03
[ 2023.07.03 ~ ]
The MaitreView™ 4KPlus Won Award at InfoComm 2023
The MaitreView™ 4KPlus Won Award at InfoComm 2023
Following the success of the MaitreView™ 4KPro at ISE and InfoComm 2022, AV LINK announced that the MaitreView™ 4KPlus received the Best of Show Award at InfoComm 2023 from Sound & Video Contractor. The winners were chosen based on their inventive merits. The award encourages AV LINK to further market the Taiwan-made and TAA-compliant 4K/60Hz and 8K multi-window video processor family, which includes the award-winning MaitreView™ 4KPro, MaitreView™ 4KLite, and MaitreView™ 8KPro to corporations, educational institutions, hospitals, and governments.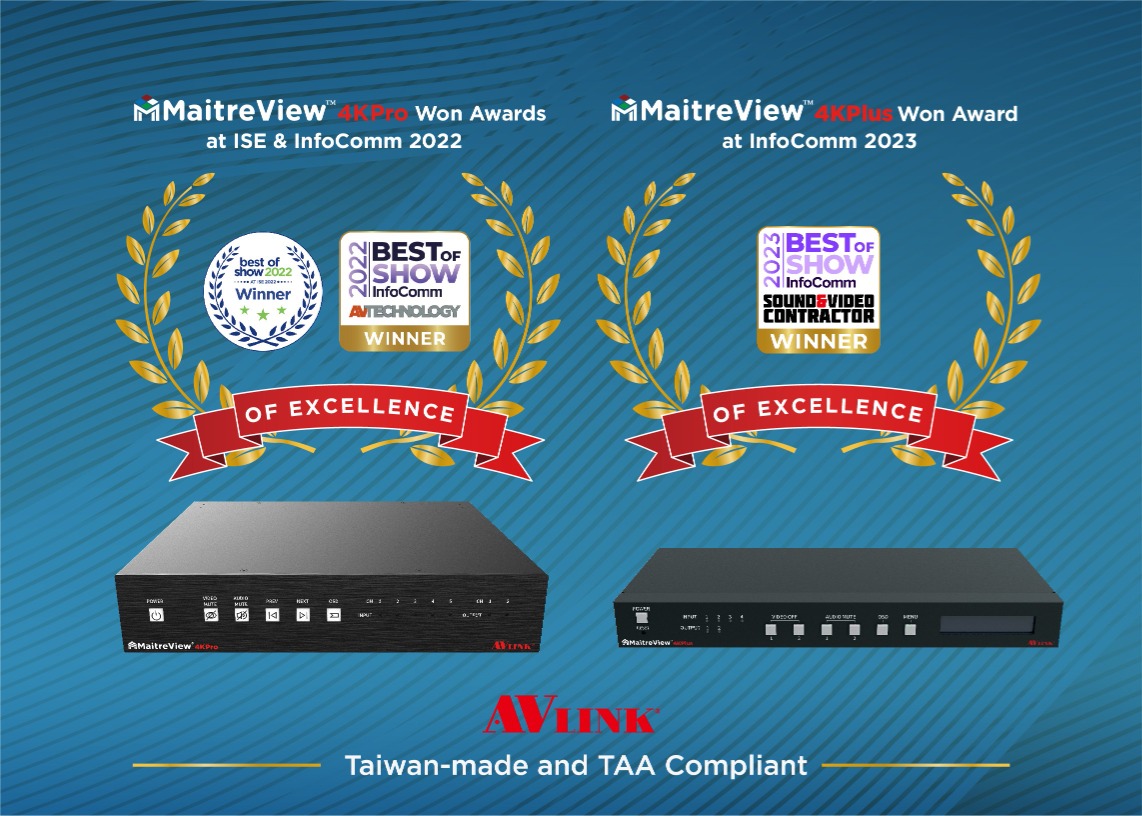 The MaitreView™ 4KPlus leverages AMD Kintex™ Ultrascale™ devices, featuring uncompressed 4K/60Hz 4:4:4, real-time Drag & Drop, independent display of different videos on two screens, seamless switching between multiple sources, and adjustable borders on each region and layer. AMD Kintex™ Ultrascale™ devices assisted the MaitreView™ 4KPlus to win the Best of Show Award at InfoComm 2023.
About AV LINK

Since 1988, AV LINK has been a professional provider in the Pro AV industry with expertise in 4K and 8K video processing algorithms driven by FPGA. With Taiwan-made, high-quality technologies, AV LINK has provided different types of solutions in the industry. For more information, please visit www.avlinksystem.com. Send an email to sales@cctch.com.tw to contact AV LINK.
Media Contact

AV LINK GROUP LTD.
Marketing Manager Kevin Li
TEL: 886-2-8226-2268#216
Email: kevin.li@cctch.com.tw