Adidas Brand Center Taipei
The IEB-22 Contributes to a Perfect Seamless EdgeBlending for Adidas
With the IEB-22, AV LINK assists Adidas in enhancing brand engagement and motivates potential customers in Adidas Brand Center Taipei, the largest Adidas store in Taiwan, to buy more sports clothing, fashion sneakers, and fitness equipment.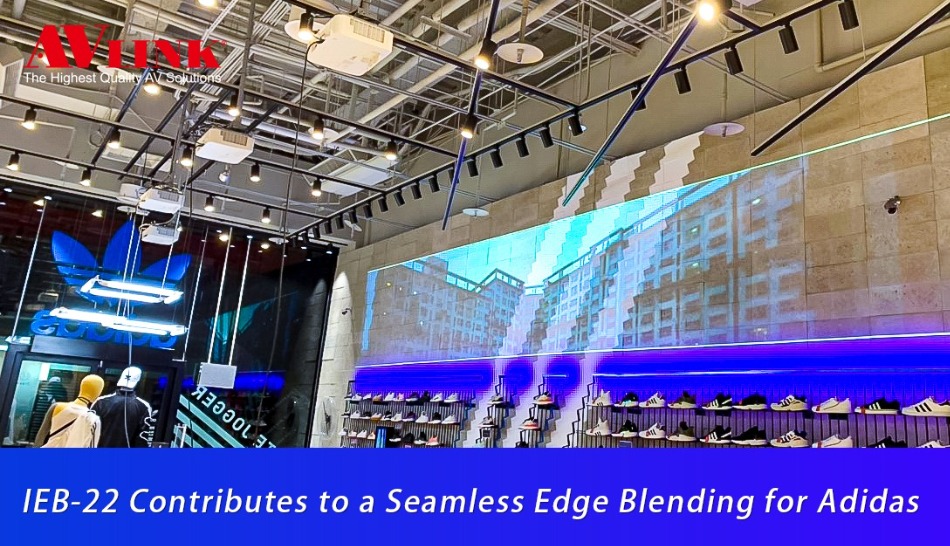 A Perfect Seamless Edge Blending Supported by the IEB-22
The team of Neoway Technology, the technical representative for Adidas had some anticipation for impressing shoppers in the store with 1,835 square meters (19,752 square feet). They planned to turn to video stitching through 2 projectors to accomplish a wide-screen effect onto a blank wall above a sneaker display area. In the beginning, they evaluated to use of software to blend the branding videos but they found the cost was not effective. Besides, their store clerks needed to spend a lot of time setting up. The Adidas technical representative contacted Leo Tu, sales representative for AV LINK.
"The IEB-22 saves time for completing a seamless edge blending. The IEB-22 is easy to use for store clerks," says Tu. "The IEB-22 supports 2 HDMI outputs and 2 HDMI inputs. The resolutions are up to 1080P for each edge blending," he explains.

"After we set up the IEB-22 and projectors, our store clerks only need to power on and off for turning on and off the edge-blending video every day. The IEB-22 is incredible and affordable. The IEB-22 not only achieves an extraordinary seamless edge blending but also enhances the working efficiency of our store clerks," says our client.
The IEB-22 for Various Customers
Worldwide Integrator
·Americas: Brazil and USA
·Asia: Indonesia, Japan, Korea, Singapore, and Taiwan
Entertainment
·Tang Music Box in Singapore
·The Themed Train Designed by Taiwanese Illustrator Jimmy Liao for Danhai Light Rail
Transit in New Taipei, Taiwan
Retail
·Adidas Brand Center Taipei in Taiwan
·Fayaque (Modern Life Style Store) in Taipei, Taiwan
Higher Education
·National Sun Yat-sen University in Kaohsiung, Taiwan
·Tatung Institute of Technology Tea Culture and Creative Life Brand Center in Chiayi, Taiwan
Secondary Education
·National Nanke International Experimental High School, Tainan, Taiwan
·New Taipei Municipal New Taipei Industrial Vocational High School, Taiwan
·Tung-shing Junior High School
Products Used for the Case